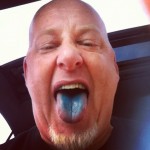 You ever wake up one day and look at that person you're in relationship with and say "I hate you" calmly and viciously? I did that today. And that person is the ice cream man.
I used to love the ice cream man. That beautiful music slowly gaining volume as he crept closer to your front yard. The menu on the side of the truck that told a magical delicious story by using only pictures. The thrill of seeing the entire neighborhood converge to the epicenter of frozen treats, each child holding their icy reward as swords after a victorious battle as the ice cream man vaporized like Merlin. And the kids that missed the truck? They ran after it like they were lawyers that run cable TV ads after midnight and that truck was an ambulance.
What happened?
I'll tell you what happened. He changed.
Relationships need work and Jingle Joe got lazy. This confection peddler doesn't bother rolling down the street any longer, he just pulls his stumblebum show up to the corner, parks in front of the hydrant and starts blasting his tired carny music like a diabetic siren. And that music… it is awful. It woke me out of a solid morning sleep after a 9 tequila night. At first I thought the carbon dioxide alarm had gone off. No such luck. The sad calliope keeps going in the way that a karaoke song keeps going even after the drunks bail on the number.
We all loved the ice cream man because of the chase involved. When I was little, a kid I knew ran after the ice cream truck far enough that he had to call his parents collect from a pay phone to come get him. That's dedication and this leather lunged youngster returned a hero. However this fat bastard on the street is sitting his deserted truck like he just got his Tinder account revoked for the 3rd time. Still the music pounds away. I can't take it anymore. He's next to a hydrant so let's call in a fire!
Here come the fire trucks… time to go back to bed.